About Us
Tvs are slowly becoming a commodity instead of a luxury. It started off as bulky CRT TVs before moving on to flat-screen projector TVs and plasma TVs. When the first LCD TV was introduced, it became important for aesthetically pleasing slim designs, leading to the LEDs, OLEDs and the QLEDs today. As complementary goods, brackets have followed similar footsteps in terms of that evolution, needing to look as well as they work.
With that concept and idea in mind, TITAN was formed. Established in 2015 as Singaporean brand. TITAN's history may be short, but it has steadily grown to make its mark in the bracket and installation industry.
Why Us? It is not just TVs that have evolved over the years. TV installation is now a niche market on its own that requires a high standard of professionalism, skill and technology; a far cry from the days where it was deemed as a simple handyman's job. Today, we are not only expected to wall-mount the TV, we have to set up the TV too, including connecting the TV to the Internet, tuning digital channels and demonstrating basic TV functions.
Over here at TITAN, we recognise this and have transformed the entire TV installation process. From the very first day an installer steps into our company, they go through a 2-day training programme as well as a 1-week attachment with our supervisor for further hands-on training. TITAN also works with HILTI, using their wall plugs and being trained by HILTI engineers who hold a mandatory half day workshop for all our installers, educating them on the type of walls and the plugs to be used. We also have engineers from BOSCH come over to teach our installers how to use a metal detector on the wall to ensure a safe drilling process.
As an official corporate partner of Sony, Philips and Samsung, our specialised training and equipment we receive from the experts of TVs give us an edge in our industry. We are the only professional TV installation team in Singapore.
Our products and workmanship come with a 2-year warranty period too. This is why when you need a professional TV installation team, there is only one obvious choice: TITAN.

Mission
To ensure the full satisfaction of our clients by providing impeccable services and knowledge to cater to our customers' current and future AV needs with out line of TV brackets and installation expertise.

Vision
To be recognised as the best TV Installation team in the industry by providing the highest level of customer satisfaction while delivering AV solutions that exceed our customers' expectations.

Values
Dedication - Providing our clients our total commitment in ensuring the best products and services.

Passion - Serving all customers equally without compromising in quality.

Motivation - Striving continuously and consistently to maintain the high standards of our service and products
Our Services
TV Brackets
TITAN brackets are the solution for your TV needs. With more than 50 top quality products in our catalogue ranging from fixed and swivel brackets to mobile stands and ceiling mounts, we are confident that one will be able to find a bracket suitable for their requirements that can enhance your viewing pleasure. Our range of classic and premium brackets also ensure that we are able to cater to all budgets without compromising on quality. All brackets come with 2 years warranty as well.
Residential mounting
As the official preferred partners for COURTS, Harvey Norman, Philips, Samsung and Sony, our fleet of 25 vehicles plying the road every day is the largest in Singapore providing door to door mounting services. We have the correct screws, wall plugs and even drills for the different type of walls one may have in your home. From the standard concrete wall to exquisite marble walls, TITAN's experience and vast manpower allows us to engage in the rigours of daily TV deliveries and installation whilst maintaining the lofty standards that we demand for all our TV installation. By incorporating technology into our service, customers can also sign off easily using E-signing on our tablets, saving the hassle of paper and ensure that everything is updated to our system immediately.
Corporate projects
TITAN specializes in big scale corporate projects that requires a more advanced skill set due to the increased difficulty levels. Our unparalleled experience in this industry as well as our wide range of products gives us the necessary tools needed to complete corporate projects which involves mounting as a more advanced level. Projects like ceiling mounted TVs for restaurants and pubs, video wall mounting for shopping centre as well as entire hotel room projects are just some examples of the tasks that TITAN has attempted and competed without a hitch. For such large scale projects, we will provide a no obligations site visit to the project site to evaluate the scenario as well as the customers' needs and requirements before providing the mounting solution we best deem fit.
Contact Us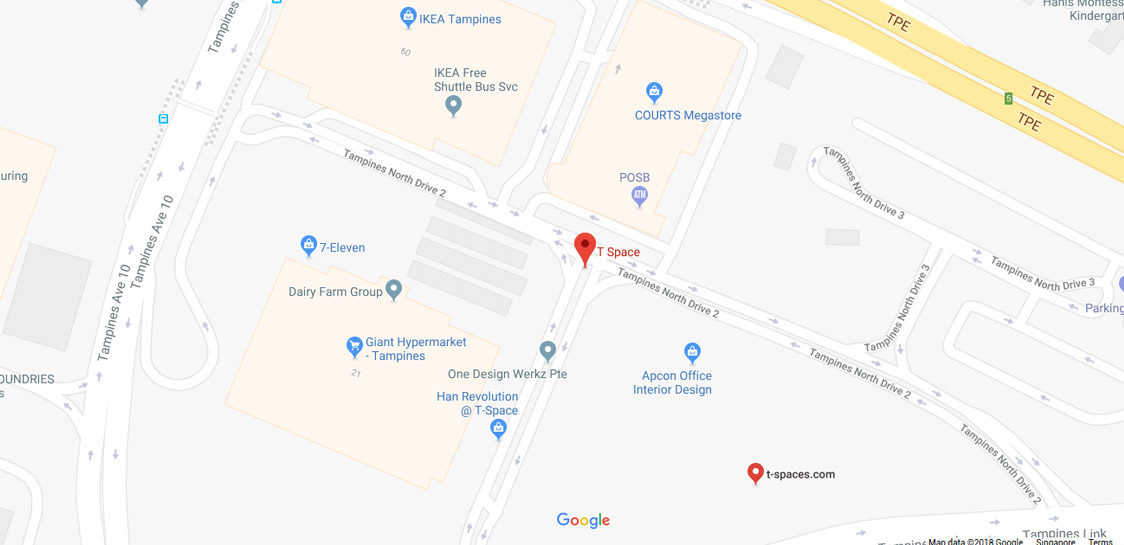 With effect from 20th Dec 2018, our office will be relocated to the following new address:
Address
No. 1 Tampines North Drive 1,
#04-41 T-Space,
Singapore 528559
Tel: +65 6848 2118
Fax: +65 6848 2824
Bus info:
Tampines Ave 10, Bef. TPE, Bus stop no. B75351 (Bus nos: 27, 34, 58, 118, 168)
Tampines Ave 10, Aft. TPE, Bus stop no. B75359 (Bus nos: 27, 34, 58, 68, 118, 168)